Make Chemex Coffee at Home
Views: 394
* Click a shape in the chart for more information
How to Make Chemex at Home
This is an adaptation of a 6 cup Chemex recipe from George Howell Coffee.
This recipe serves approx. two people. The recipe is broken up into 3 pouring stages with 250 grams of water in each pour. Breaking up the pours allows for repeatability and a controlled total brew time.
The recipe can be halved for a single serving. Instead of waiting the full one minute after the second pour, wait 30 seconds, and then finish with the third pour. This will bring the brew time to 3:00-4:00 minutes.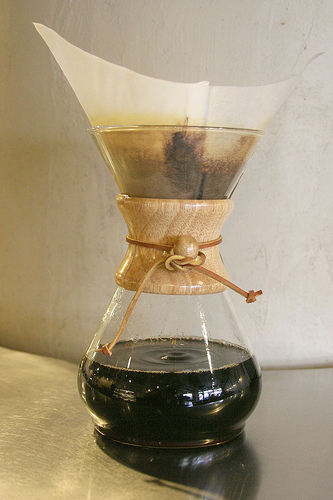 Heat 1-1.25 liters of filtered water to 203-205 degrees F - you never want to add boiling water to your coffee. If you are using a stovetop water kettle, bring the water to a boil and let it sit for 20-30s before adding it to your coffee.
Weigh out between 47-49 grams of coffee (1 level tablespoon=6 or 7g) while water is heating.
Grind the coffee medium-coarse (think of chemex grind size as a 7 on a scale of 1-9, 1 being fine as turkish espresso and 9 being course as french press). For the most even grind, hence a more even extraction, use a burr grinder.
Fold chemex filter, single layer in back and triple layer towards front (the spout).
To rinse filter, pour hot water over filter to remove any loose fibers and to keep chemex hot. This will help get rid of the paper taste as well.
Pour out hot water from the back of the Chemex. You can avoid burning your fingers by pinning them against the filter in the front of the chemex. This will also keep the filter in place.
After you pour the water out, add the coffee to the chemex and tare out the scale.
Start timer as soon as water hits the coffee grounds.
Upon the first pour, make sure to saturate all of the grounds. After all the grounds are saturated, pour in small circles in the center, pouring up to 250 grams of water. This first pour should take 30 seconds.
Wait 30 seconds and add more water into swan neck kettle. Begin second pour by pouring in small circles in the center, adding another 250 grams of water. This second pour should take another 30 seconds.
Wait 60 seconds. Add more water into the swan neck kettle right before third pour. Begin third and final pour. Start pouring in center and spiral out with bigger circles towards the edge of the filter and back in, being careful not to hit the walls of the chemex. The third pour should take 30 seconds and will add the final 250 grams of water (750 grams total).
Wait for chemex to drain out. This will bring your total brew time to 4:00-4:30 minutes.
Water kettle
6 cup chemex
Chemex filters
Swan neck kettle or any sort of pitcher that will allow for a controlled pour
Scale
Timer